Missing
Citizen Input


Missing

Property Rights


Missing

Transparency


Missing

Public Notice


Missing

Public Hearings


Missing Zoning Protections
Missing

That I Matter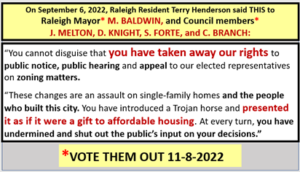 The Raleigh Mayor and City Council have recently enacted amendments to the zoning ordinance that abolish property rights and protections that have made Raleigh the admirable city it is today.
The objective of this website is to provide factual information regarding Raleigh's Missing Middle zoning policies and their detrimental effect on traditional single-family neighborhoods across the entire city of Raleigh.
With the passage of recent Missing Middle changes, Raleigh Mayor Mary-Ann Baldwin and the incumbent city council* have set in motion harmful policies that will increase density and destabilize neighborhoods in nearly every section of the city but will not truly address the challenge of affordable housing as they claim.
This legislation was passed without meaningful public input during Covid and presented as "text changes." In fact, the Missing Middle amendments are a sea change for development in the city and have given unprecedented power to developers to build virtually anything anywhere anytime. Missing Middle effectively does away with zoning in vast parts of the city and increases density by double, triple or more. For example, what was R-4 (4 units per acre) is now effectively R-21 in certain areas.
Finally, these changes have done away with public notice, public hearings, and review by appeal to the council. They have ceded their responsibility to staff who, after checking for details, are required to approve the project simply if it meets the requirements set out in the Unified Development Ordinance. By right, developers are now no longer accountable to the public.
The Missing Middle should be repealed and there must be a return to Raleigh's previous zoning processes.
Learn More
FAQ
Background
News Coverage
Candidate Endorsements
Donate Today
Vote in November
Contact Current City Council
Sign Petition
Sign Up for Email Updates
Please plan to visit this site often for the latest information and developments.
Save Our Neighborhoods Steering Committee
Margie Case, 1540 Carr Street, plinymtc@gmail.com
Frank Gordon, 802 Williamson Drive, fgordon@mgsattorneys.com
Terry A. Henderson 1001 Vance Street, thenderson.1000@att.net
Frank Hielema, 926 Williamson Drive, fhielema@aol.com
*Voting for the Missing Middle amendments were Mayor Mary-Ann Baldwin and current city council members Nicole Stewart, Patrick Buffkin, Jonathan Melton, Corey Branch, Stormie Forte and David Knight. Baldwin, Branch, Forte, Melton and Knight are running for re-election in November.